CEW & 24 Seven 2015 Job Market Survey
We have been invited by 24 Seven, a strategic resource for talent management, to participate in a valuable survey with our CEW members, in relation to the job market and salaries in the beauty industry in the UK. Their innovative approach combines global reach, industry expertise and market intelligence to deliver top performers that advance business goals.
Estimated launch date for the 24 Seven – CEW Report is September 2015, and will be available for free to all membership. This is a very important topic that concerns you and all employers in the beauty industry. This activity is being sponsored by 24 Seven who have successfully produced similar reports for CEW Inc. in the United States.
Also in September, CEW will once again partner with Raconteur on 'The Beauty Economy' 16-page special report in The Times, which will also champion the beauty industry and its employees to 1.26m+ readers.
On the 19th May you will receive a link to this survey and you will be asked to fill in a questionnaire. Your support and your feedback is the key element for this activity, so may we please ask you to take the time to answer the questions.
We thank you in advance for your time and contribution.
Caroline Neville, President of CEW(UK): "In keeping with CEW's mission to nurture careers, provide networking opportunities, and industry insights, we are delighted to be partnering with 24 Seven to provide valuable information for the beauty industry. All CEW members will receive their personal copy of the Job Market Report. This is yet another example of CEW enriching the value of Membership to the organisation".
Beverley Radford, Executive Director of Business Development, Europe, 24 Seven: 24 Seven are excited to announce our joint collaboration with CEW in producing the first UK Salary and Job Market Report, solely focusing on the Beauty industry. The survey is intended to provide invaluable data to help drive your business forward, shape and position your employment brand and provide key pointers on effectively managing the recruitment process whilst promoting employee retention.
Beatrice Aidin, Editor, Consultant and Journalist: "To understand the business of beauty it is imperative to find out as much as possible about the people who work in the sector. As the industry continues to grow, the survey will provide invaluable research into not only understanding what makes people tick but also how they got here, why they stay and what would help them further their careers – and in turn, the business of beauty"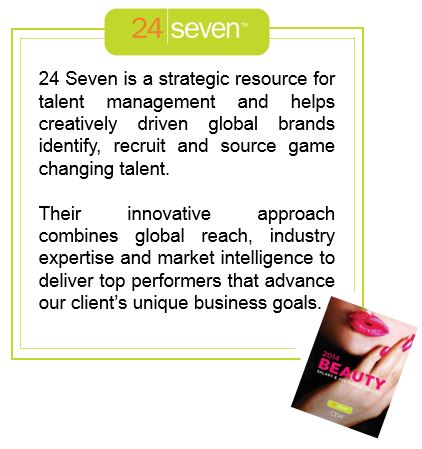 If you have any other queries regarding this survey please contact Eleni Vamvakopoulou at eleni@cewuk.co.uk Tel: 0207 940 2900.
Kind regards
The CEW Team