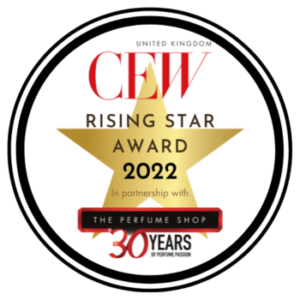 This year CEW is celebrating its 30th anniversary of launching in the UK and as part of our programme to recognise new talent across the Beauty Industry we are pleased to announce the launch of our first
Rising Star Awards in partnership with The Perfume Shop who are celebrating 30 years of their business.
In 2018 CEW launched the Young Achiever Award as part of our Young Executive Programme to recognise a CEW Young Executive member at our annual Achiever Awards. The Rising Star Awards have been established to continue our recognition of new talent across the Beauty Industry and will be awarded to 10 outstanding individuals as nominated by the members of CEW.
"It's an honour to be supporting the brand new CEW Rising Star Award in what is a momentous year for both The Perfume Shop and CEW as we celebrate our 30th birthdays. This award serves to recognise some of the incredible new talent that's coming into our industry, with our perfume people so integral to our business this is something that we have always supported and will continue to do so as we head into our next 30." Gill Smith, Managing Director, The Perfume Shop
NOMINATE NOW!
We are asking CEW members to put forward individuals to be recognised as a 2022 Rising Star. An independent panel of judges will be selected to judge the entries including a representative from The Perfume Shop.
WHO CAN BE NOMINATED?
– You may nominate CEW members and individuals who are not currently CEW members
– The award is open to both men and women under the age of 35
– All nominations for the Rising Star Award will also be entered into the CEW Young Achiever Award
AWARDS CEREMONY & PRIZE
The 10 winners will be announced at The Rising Stars awards ceremony on Tuesday 18th October 3-5pm at Mortimer House.
Each winner will receive a 12 month CEW Young Executive membership, promotion on CEW social channels, newsletter and website, The Perfume Shop goody bag and the ability to use the Rising Star logo on their LinkedIn profile.
DEADLINE – 5PM FRIDAY 16TH SEPTEMBER
The Perfume Shop
At The Perfume Shop, we've lived and breathed fragrance for 30 years. To put it simply, we're the award-winning Perfume People – we're experts, we're passionate and we care. As part of A.S. Watson Group (the world's largest health and beauty retailer), we have more than 200 shops spanning the UK and the Republic of Ireland, as well as our flagship online site, where we sell the perfume you like at prices you'll love, for everyone and all occasions. We pride ourselves on our perfume passion and have trained and developed our Perfume People to be the most knowledgeable sales advisors in the fragrance industry. To find out more visit www.theperfumeshop.com
Terms & Conditions
* Please note you may nominate CEW members and individuals who are not currently CEW members, however only CEW members can put forward nominees.
* The award is open to both men and women under the age of 35.
* All nominations for the Rising Star Award will also be entered into the CEW Young Achiever Award
*Deadline for nominations: Friday 16th September
For all enquiries please contact [email protected]
In partnership with: