Parisian perfumer diptyque is delighted to announce it is launching a two-week pop-up store on the 23rd May 2022, located on Sloane Street, as part of the floral art show, Chelsea in Bloom.
The Maison has interpreted this year's 'British Icons' theme with two British classics. The 'teatime in roses' concept plays with the rose, an iconic muse of the Maison; and afternoon tea, paying homage to the Thé / Tea candle – one of diptyque's three original candle creations.
The façade of the store will be adorned with a beautiful fresh rose installation, created by local florists, Blooming Haus, with Parisian café seating to enjoy the diptyque experience. The playful interior will be carefully lined with vintage tea sets to compliment a bespoke version of diptyque's Boscage wallpaper, which is inspired by British founder, Desmond Knox-Leet's early illustrations. Customers will be invited to enjoy light refreshments, whilst discovering the brand's floral and gourmand scents, in keeping with this year's theme.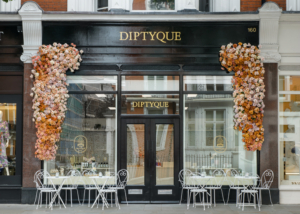 Exclusive animations and personalisation services will be in place across the two-week residency, with a full programme to be announced in due course. The brand has also committed to repurposing the flower installations after the pop-up, to extend the life and enjoyment of the flowers; and will be demonstrating how to give a new lease of life to your empty candle jars with their 'second life' candle accessories.
The Chelsea in Bloom pop-up will pave the way for diptyque's new permanent Chelsea store, set to launch on Sloane Street in October 2022. The new UK flagship, in the heart of London's luxury shopping destination, will be the largest store in the UK and will house the full brand catalogue, including items from the coveted decoration collection, hosting exclusive events and services.
diptyque's Chelsea in Bloom pop-up will be open from the 23rd May – 5th June 2022
diptyque
160 Sloane Street
London
SW1X 9BT

Monday – Saturday: 10AM – 6PM
Sunday: 11AM – 5PM
For more information please click here