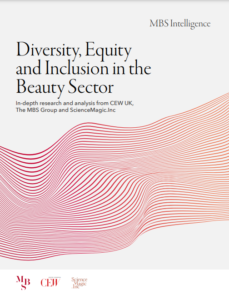 CEW UK is delighted to share the publication of the Diversity, Equity, and Inclusion in the Beauty Sector report in partnership with the MBS Group and ScienceMagic.Inc.
This first-of-its-kind report is set out to discover the true status of diversity, equity, and inclusion in the beauty industry. To compile it, we have reached out to the 100 largest companies operating in Europe and gathered quantitative and qualitative data which demonstrate the diversity of the industry's leadership teams, and the extent to which organisations are prioritising DE&I.
CEW is committed to being a force for good in the beauty and wellbeing industry, and this report is an essential first step in understanding the current situation and challenges we face.
To read the report please click on the link below: