UK-based luxury skincare brand Elemis has partnered with premium London department store Harrods to launch a new retail boutique.
A carefully curated edit of bestsellers and world-first ELEMIS exclusives launched at the new ELEMIS boutique in the White Hall on the Ground Floor of Harrods, Knightsbridge and at harrods.com this week.
Proudly bold and British, the design is based on a Georgian architectural language with detailed millwork, arched bays and floor tiles reminiscent of grand townhouses and members-only clubs. The design is infused with iconic emblems of the London landscape, namely the small phone box to house the Harrods exclusives, and a chic salon wall that tells the brand's story, reminiscent of what you may find in Sir John Soane's Museum or a local, long-standing pub.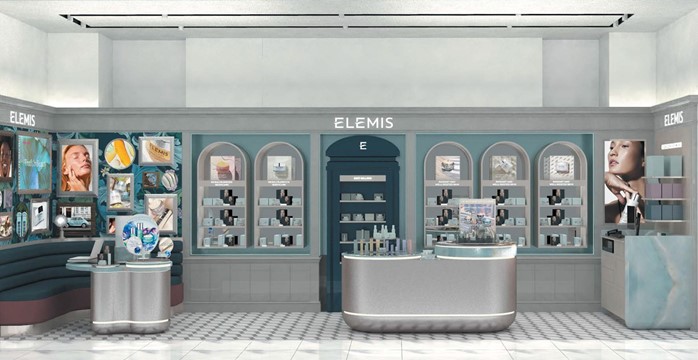 The ELEMIS boutique at Harrods also features a bespoke wallpaper print created in collaboration with the world-renowned Morris & Co. Taking inspiration from the work of the legendary British designer, William Morris, it will also serve as a background texture and base for the exclusive Harrods packaging. As a contrast to the traditional architecture, the product fixtures become modern and minimal in design, with clean lines and simple geometries creating a futuristic yet relatable sense of luxury.
CEW Board Member and Head of Beauty at Harrods, Mia Collins commented:
"We are delighted to welcome both British heritage and modern ELEMIS to our iconic Beauty Hall in Knightsbridge. As a proudly British brand, which like us, celebrates ingenuity, we see obvious synergies in this exciting new partnership and wonderful new addition to Harrods' beauty portfolio. We truly admire the exceptional skincare and body formulas that ELEMIS is famous for and are especially excited about their latest addition: the new essence, which is exclusive to Harrods, and have no doubt that our clients will adore them too."