Floral Street Receives Two New Accolades
This month the independent, British fine fragrance brand Floral Street announced they have been awarded two international accolades in recognition of their ethical fragrances – the Global Green Beauty Awards 2022 recognised Sunflower Pop as the winner of 'Best Ethical Fragrance' and the UK Marie Claire Sustainability Awards 2022 named Floral Street as the 'Best Sustainable Fragrance Brand.' In addition, the brand has announced they have also widened their UK distribution launching into 44 Space NK and Anthropologie stores and online – the go-to beauty discovery destinations that offer innovative lifestyle shopping experiences.
Floral Street x Van Gogh Museum launch clean, home fragrance collections inspired by iconic masterpieces and nature
"In 2021 Floral Street and the internationally renowned Van Gogh Museum, Amsterdam introduced the vibrant and expressive, award-winning Sunflower Pop fragrance to the world. This creative collaboration, where a master painter inspires a master perfumer, pays homage to Van Gogh's iconic 'Sunflowers, 1889'. Summer 2022 extends this authentic four-year partnership with the launch of two ethical home fragrance collections, continuing their appreciation and shared love of nature. Once again inspired by the Sunflowers masterpiece and also Van Gogh's Almond Blossom, 1890, both part of the Van Gogh Museum collection. They bring to life the essence of these world-famous printings through a sensory experience where fine art meets fine fragrance."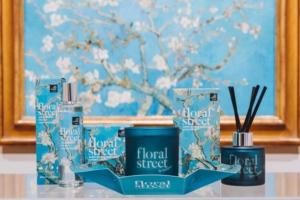 "So many love our bright and happy Sunflower Pop, that they want their homes to smell like it too. But this time we have also been inspired by Van Gogh's Almond Blossom, creating two different facets of his masterworks. Van Gogh brought the plants to life visually and we are bringing them to life in our clean fine fragrances" – Michelle Feeney, founder Floral Street.
Available from July 2022 on www.floralstreet.com (UK & US), the Van Gogh Museum, Amsterdam and selected global retailers.