Dear CEW Member
One donation, double the impact thanks to The Big Give!
The Eve Appeal has been given a limited-time opportunity to have all donations made to the charity matched by The Big Give. Until midday Tuesday 15th March 2022, donations to The Eve Appeal made using this link will be matched.
As the Ask Eve Nurse Advisor (that's me below), I spend much of my time speaking to women who have concerns about their gynae health. There's no doubt that together we've made progress in breaking down the stigmas and taboos surrounding gynae health, but there's still a long way to go.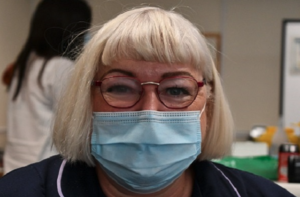 Your support can help us to reach the women who are at higher risk of developing a gynae cancer, as well as ensure even more people are aware that they can access free, confidential, expert information from myself and the Ask Eve team.
A donation of £25 could cover the cost of an hour's call to Ask Eve, but over the next few days, your donation could be doubled and cover two hours, meaning we could support twice the number of women!
I'll be so thankful for any donation you can make, however I know it's a difficult time for many, so if you aren't able to, I completely understand.
Donations must be made through The Big Give website in order to be matched.
Thank you so much for taking the time to read this, from me and everyone at Team Eve.
Best wishes,
Hilary
Ask Eve Nurse Advisor