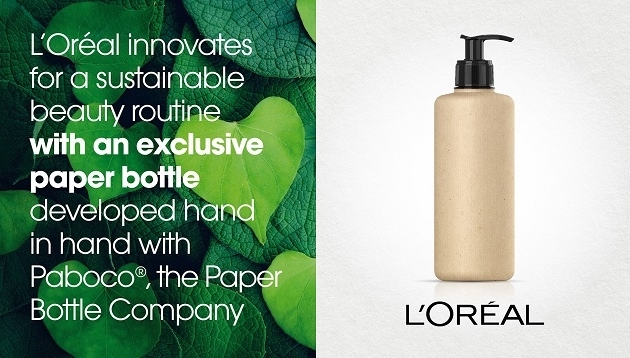 In a move to accelerate its paper based packaging initiatives, L'Oréal has joined the paper bottle company community: a consortium of brands, suppliers and technology experts developing what will be "the world's first 100% bio-based and recyclable paper bottle". The Paboco project focuses on developing paper bottles, and according to L'Oréal, it is the first player in the cosmetics industry to have integrated Paboco alongside Carlsberg, Absolut and Coca-Cola.
Spearheaded by Denmark-based Paboco, the bottle is composed principally of wood fibres and features a bio-based barrier that is said to resist both water vapour and oxygen transmission. In a bid to reduce the use of materials, the bottle will be digitally printed using either sustainable inks or laser engraving.
"If we want to accelerate the sustainable transformation of our industry, collaboration is key to find innovative solutions and to leverage them at scale. Paper bottle is a great opportunity for more sustainable packaging," comments Philippe Thuvien, Head of Packaging and Development at L'Oréal.
This comes shortly after L'Oréal partnered with cosmetic packaging company Albéa to develop the first paper-based cosmetic tube, which is scheduled to debut in 2020. Most of the plastic used for the tube is replaced with a bio-based and certified paper-like material. The innovation, L'Oréal said, is designed as an alternative solution to certain types of cosmetic packaging.
Since 2007, L'Oréal has been working to improve the environmental footprint of its packaging. This initiative is part of its strategic sustainable development programme "Sharing Beauty With All". The programme is based on three levels – respect the environment and biodiversity; reduce its packaging by volume and weight and limit itself to the most useful components and optimal dimensions; and replace high-impact materials and promote the circular economy.
To learn more, please visit: loreal.com