by Imogen Matthews, IM Associates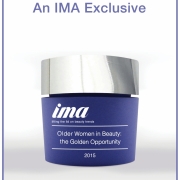 IM Associates is publishing its second exclusive report on the beauty buying habits of older women and the opportunities for brands and retailers to target this important growth demographic.
CEW members can obtain a 10% discount.
While the Beauty industry may believe it is targeting this age group, our exclusive research shows that many women aged 45 and over feel that:
They are not a priority, nor is there any recognition that they use products differently to younger women

Product information, advertising and customer service in-store falls short of their needs

Much of the imagery used by beauty brands is disingenuous and insulting
Today, only a handful of brands dominate the purchasing preferences of the over 45s.There's a massive opportunity for new and existing brands to enjoy a share of the billions of pounds that they spend each year on beauty products.

In this, the second edition of our report into the beauty buying habits and attitudes of Older Women, we help to shatter the illusions that have prevented many brands from attracting this age group and uncover the secrets to becoming more engaging.
"It's not often that there's an opportunity to steal serious share in any target market, especially one as established and as big as this one!" Imogen Matthews, Founder and MD, Imogen Matthews Associates.

OLDER WOMEN in BEAUTY – THE GOLDEN OPPORTUNITY: you'll find out:
What's changed since we published our first report into the older market in 2012

The role older women play in our society, their attitudes towards spending and why they feel let down by the beauty industry

Their spending power, their usage of beauty products and their attitudes towards them

Why the brands that currently target them are failing to connect with the older market

The products they love and the products they'd love to see

Their attitudes towards shopping for beauty and how to make the shopping experience better

3 niche brands that have successfully penetrated this market, how they did it and the success they've achieved
The insights provided in this report have been collected through a combination of 1-2-1 interviews and the results from an exclusive online consumer survey undertaken by IMA.

7 facts you may not know about the 45 + year old age group:
People over 50 currently represent nearly

a third of the UK population

They control nearly 79% of disposable income

They are the wealthiest, happiest and most spendthrift of all age groups

Most feel younger than their age

Far from rejecting technology, they embrace it and are keen users of social media

They accept wrinkles as a part of getting older

Only 1 in 10 say they are worried about getting older and only slightly more say they want to look younger
OLDER WOMEN in BEAUTY – THE GOLDEN OPPORTUNITY is available now: http://www.imogenmatthews.co.uk/older-women-the-golden-opportunity/
CEW members can obtain a 10% discount by emailing: hello@imogenmatthews.co.uk