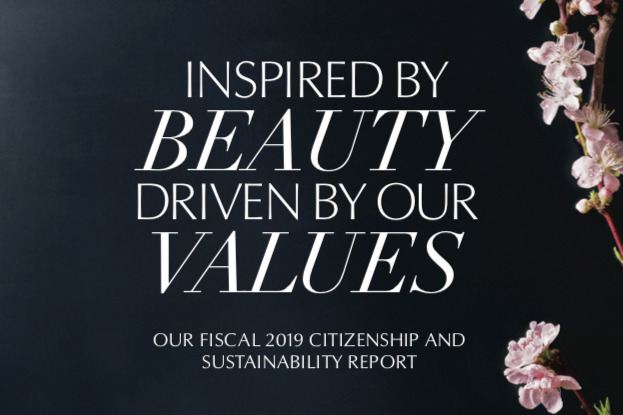 The report underscores the company's progress and commitment to strengthening efforts across core citizenship and sustainability focus areas and highlights key milestones.
"As we continue to deliver on our promise to create the world's most beloved products and experiences, we believe that embedding citizenship and sustainability across our business reflects the value we place on long-term, sustainable growth," said Fabrizio Freda, President and Chief Executive Officer of The Estée Lauder Companies Inc. "This year, we took important steps to more formally integrate these longstanding principles into our strategy and across our entire business."
Highlights from the report below:
• The Company is on track to meet its environmental sustainability goals of achieving Net Zero carbon emissions and sourcing 100% renewable energy (RE100) by the end of 2020.
• In 2019, the company set a goal of impacting the well-being of 10m individuals around the world through programs and grants focused on health, education and the environment.
• The M·A·C VIVA GLAM Fund's (the largest corporate HIV/AIDS funder outside of the pharmaceutical industry) fiscal 2018 grants positively impacted more than 12m individuals.
• More than $10.3m was raised globally via The Breast Cancer Campaign to support vital research, education and medical services.
• In fiscal 2019, the company made a commitment to provide access to basic sustainability and social impact training across all levels of its organization by the end of 2020.
• The company is on track to meet its 2025 goal to engage 50% of eligible employees in regional, brand or local volunteer programs such as ELC Good Works, The Breast Cancer Campaign and the M·A·C Global Volunteer program.
"We credit the success of The Estée Lauder Companies in the dynamic and fast-paced world of prestige beauty to the passion and dedication of our employees, the vision of our leaders and the strength of our beloved brands," said William P. Lauder, Executive Chairman of The Estée Lauder Companies Inc. "We look forward to building a beautiful and sustainable future together."