The annual Brand & Lifestyle Licensing Awards 2022 (B&LLAs) yesterday recognised and celebrated excellence in product innovation and brand licensing management and retail.
At the event, British Fine Fragrance brand, Floral Street, launched by Michelle Feeney in 2017 was triumphant in winning Best Brand Licensed Health & Beauty Product or Range for their vibrant and expressive Sunflower Pop fragrance. This first sustainable, vegan scent from a four-year partnership with the internationally renowned, Van Gogh Museum, Amsterdam, was inspired by the iconic Sunflowers masterpiece and a shared love and appreciation of nature.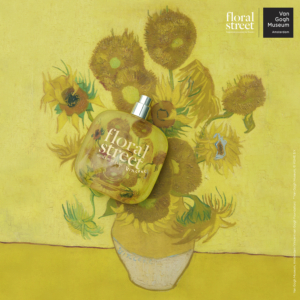 "Finally, the world has woken up to the need to do things differently! We are thrilled to have been recognised for our authentic partnership with the Van Gogh Museum that supports a positive and more sustainable future in beauty. We have combined the inspiration from a past master painter with the talent of a present master perfumer in our modern, clean fragrance." Michelle Feeney, Founder, Floral Street.
This prestigious award adds to Floral Street's portfolio of international accolades as they continue to be recognised globally as an independent, clean, British fine fragrance brand, 'powered by flowers'.