Floral Street, the independent, sustainable, British fine fragrance brand has been appointed as the 'Official Scent of BAFTA 195 Piccadilly', the renowned headquarters and central hub for BAFTA worldwide. The pure and crisp Grapefruit Bloom scent chosen for its bursts of upbeat optimism is the ultimate mood-lifter.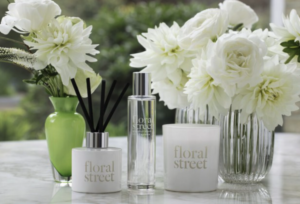 Powered by flowers and inspired by vibrant London culture Floral Street has modernised floral fragrances with their award-winning, vegan perfumes, created by one of the best 'noses' in the world, luxury body care and ethical scented home products. Crafted with sustainable ingredients traceable from source to scent, their collections are presented in exclusively designed reusable, recyclable, and biodegradable packaging.
BAFTA 195 Piccadilly is dedicated to building brighter futures for new and emerging talents and provides a kaleidoscope of opportunity within the film, game and television industries. Proudly supporting this ethos, Floral Street continue its multi-year partnership with the company and become the exclusive hand wash and hand lotion supplier of the house.
"As an independent British brand, this partnership is a natural fit and we are thrilled to be involved in the sustainable and inclusive reimagining of this iconic building.  We are delighted that BAFTA has recognised and endorsed our clean fine fragrance, enabling us to connect with a new and diverse audience."
Michelle Feeney, Founder, Floral Street