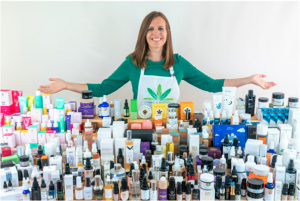 2021 was a year of phenomenal activity for Formula Botanica graduates and their indie beauty brands. The online cosmetic science school saw its graduates win over 130 beauty industry awards last year for their natural skincare and haircare brands.
Graduate brands were outstanding performers in the prestigious Beauty Shortlist Awards (UK and USA), Green Parent Awards (UK), Free From Skincare Awards (UK), the Annual Earth Day Beauty Awards (USA), Health, Beauty & Wellness Awards (LUXlife Magazine UK and Australia) and The Africa Spa Awards.
In addition to outright winners of main awards and categories, many more Formula Botanica graduate products and brands were awarded silver or bronze, voted editors' and readers' choices or were finalists. In 2021, the school added a further 100 beauty brands to its own online gallery of newly-launched graduate brands.
Formula Botanica CEO and CEW Digital Innovation Award recipient, Lorraine Dallmeier said that even without all international and regional award bodies and winners on the school's radar, 2021 had seen an impressive number of graduate award winners and achievers.
"2021 was truly a year in which Formula Botanica graduates made their mark as indie beauty founders who mean business. Against the difficult backdrop of the ongoing pandemic, our graduates went ahead and successfully launched a record number of indie beauty brands and demonstrated just how innovation, resilience, creativity and determination pay off," said Dallmeier.
Formula Botanica graduates and students also gained significant mainstream media coverage during the year. From their brands being mentioned alongside celebrities of the stage and sport, to winning entrepreneur awards and featuring on prime time TV, the school's alumni and their brands have been in the spotlight.
Some of the most high-profile coverage in 2021 includes BYBI Beauty featuring in US beauty news with red carpet mentions of its products in the beauty regimes of actors Billie Eilish and Megan Fox, and also that of Olympian Simone Biles.
While New-York based founder Sandra Velasquez of Mexican-heritage brand Nopalera was interviewed on the Today Show in a feature on the growth of Latino-owned businesses and her role in raising the bar on consumer perceptions of Mexican-inspired and -made goods. Nopalera also featured on The Drew Barrymore Show, and in Beauty Independent where she was heralded as 'The Mexican Martha Stewart'.
In Malaysia, Formula Botanica student Rena Rifaee, founder of skincare brand Natugee, won the Woman Entrepreneur of the Year award run by the country's major, early-stage startup influencer fund.
In the UK, newcomer brand d'still, launched at the very end of 2020 by graduate Ula Blocksage, was immediately in the spotlight winning the 'Brand to Watch' category of the 2021 Beauty Shortlist Awards.
"We predict 2022 will be an even busier and just as successful year for Formula Botanica graduates. They continue to trailblaze not just in the indie beauty sector, but also by transforming the mainstream industry with their innovation and their commitment to infusing their businesses with sustainable practices," said Dallmeier.
Last year, the school saw student enrolment on over 10,000 online courses while some 1,500 new members joined its exclusive CPD site, The Lab at Formula Botanica. The school closed the year just short of 15,000 students who span some 179 countries. Formula Botanica's award-winning and accredited education is creating a new generation of botanical formulators.
For more information visit www.formulabotanica.com