REN Clean Skincare joins international recycling leader TerraCycle to introduce a global, first-of-its-kind, waste-free shopping system Loop™.
Loop™ is a ground-breaking zero waste shopping platform that transforms the packaging of everyday essentials from household brand names from single-use disposable to durable, functional packaging delivered direct to your door, returned and refilled – just like the milkman reimagined for modern life. No more hassle from rubbish and recycling – simply drop used empties into the Loop Tote and schedule a free pick-up from home. Loop hygienically cleans and sanitises the empty packaging you send back so they are ready for reuse, instead of ending up aswaste after a single use.
Announced at the World Economic Forum, the Loop initiative will challenge worldwide reliance on single-use plastic, with a real and measurable environmental impact.
Known for being the pioneers of Clean Skincare with a Clean to Planet ethos, REN Clean Skincare is the first premium skincare brand to join Loop™. Partnering with TerraCycle for the first wave is the latest step in the brand's ambitious pledge to be ZERO WASTE by 2021.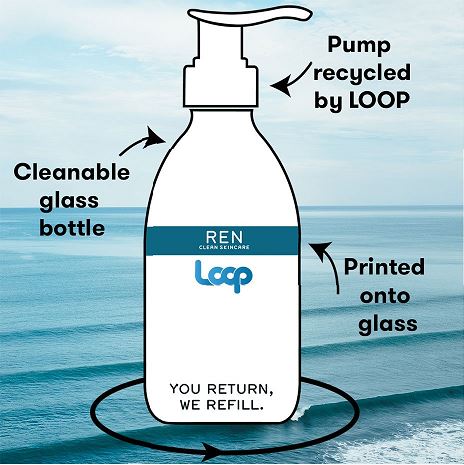 Six bestselling products will now be available in glass label-free bottles, making them easier to clean and refill, with a single-type plastic pump for future recycling.
"REN Clean Skincare were an inaugural partner in Loop's French and US launches in 2019 so we are delighted that they are also launching with us now in the UK market," said TerraCycle CEO Tom Szaky. "REN Clean Skincare shares the same vision as we do and is a brand to closely watch in the future."
Arnaud Meysselle, CEO of REN Clean Skincare says, "As the pioneering brand of clean skincare, it is our pleasure to partner with LOOP on this essential and exciting step to reduce waste. At REN Clean Skincare we are proud of our commitment to become zero waste by 2021 and today marks one of our milestones to securing our goal. Clean to skin, clean to planet go hand in hand for us and our 360 degree approach to clean means that we will never compromise on either."