This week saw the launch of Skindays, "the first curated skincare platform…changing the game in how customers shop for skincare with a personalised and educational online marketplace."
Skindays brings boutique skincare shopping to an online curated marketplace, utilising technology to provide customers with a personalised online skincare shopping experience.
With access to a curated selection of brands, the process starts via a 'skin test', matching customers to their ideal products based on their skin type, concerns and lifestyle preferences.
Beyond purchase, the platform provides guidance on how to use the products, to reinforce and educate customers who are seeking ease and advice with targeted skincare routines.
"Skindays believes in quality over quantity. The platform will launch with over 30 carefully selected skincare brands, including Votary, MZ Skin, Sarah Chapman, Goldfaden, Joanna Vargas and Oskia. With a plethora of new products emerging in the already saturated market, Skindays helps prevent customers from making uneducated and ultimately un-efficient purchases. The platform combines the power of technology with skincare knowledge to deliver a highly personalised and targeted shopping experience.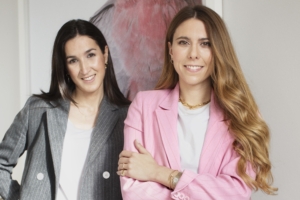 The founders, Diana Stenbolt and Gemma Estrela, both hail from ecommerce backgrounds and, in fact, met whilst working at Farfetch. They initially connected in the changing room of a pilates class, where Diana was captivated by the number of skincare products Gemma was carrying in her toiletry bag. They struck up a conversation about skincare: which products to buy and where to buy them. They concluded that buying skincare products is a detailed and precise art and that no online store was able to provide the level of advice and recommendation that an in-store experience could offer.
Following customer research, they confirmed that just like them many felt ill-equipped to make the correct skincare purchases online. Skindays was born. In a world where ingredients matter, their key objective is to drive innovation; championing new, ground-breaking brands from plant to science based."
Stenbolt says: "At Skindays, our mission is: to guide our customers' skincare choices to help them look and feel their natural best. We introduce our community to new, advanced skincare, matching them with the correct products and advising them on how to most effectively fine-tune their routines to improve their skin. Our goal is to steer our customers through their skincare journey and to support them in maximising their skin's potential, making the most out of every product."
"We want to change the way people shop," adds Estrela… "not just by matching customers with the right skincare products but, more importantly, by helping them take care of their skin and validating their skincare choices. We are true believers in ageing gracefully, beauty without filters and our brand reflects that. The Skindays personalised shopping experience is designed to support our community, embracing their natural features, and guiding them to the best of their skin days."
For more information visit www.skindays.com