Created following 15 years of research into skin ageing and repair with the University of Manchester, No7 Future Renew contains a world-first super-peptide blend proven to harness the skin's natural repair process.

Earlier this week, No7, the UK's number one skincare brand, announced the launch of No7 Future Renew; a collection of four skincare products proven to reverse the appearance of multiple signs of skin damage. The range contains a new 'super peptide' blend that is proven to harness the skin's natural repair process and the renewal of over 50 key proteins in skin cells. The super peptide blend – which represents the biggest cosmetic science innovation in No7's history – contains two brand-new chemical entities, a patent-pending world-first technology that cannot be found in any other product.
No7's new super peptide is set to be one of the most effective and tolerated skincare ingredients on the cosmetic market. Unlike retinoic acid, which is known by dermatologists to cause tolerance challenges such as skin sensitivity and redness, No7's new super peptide is both highly potent and highly tolerated, being suitable even for those with sensitive skin. This paves the way to highly effective skincare being available to even more people.
The new peptide blend have been developed following 15 years of research using cutting edge British R&D across several fields of science and technology including advanced robotics, mathematical modelling, bioinformatics, machine learning, cell biology and cosmetic science.
The Future Renew range has undergone the most extensive and diverse testing programme in No7's history – 37 studies on over 4,200 people, including two clinical trials and 23 user trials. More than half (51%) of the total testing group had skin of colour.
97% of women in the clinical study had improvements in the appearance of multiple (3 or more) visible signs of skin damage. Patent applications have been submitted and are pending for both the new peptides and the delivery system found within the serum.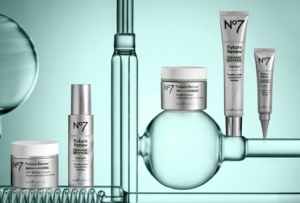 No7's Head of Science Research, Dr Mike Bell, said: "Skin damage happens throughout our lives and is caused by multiple factors including sun exposure, environmental pollution, stress, sleep, temperature and nutrition. The new peptide blend effectively tricks the skin into thinking that it has been damaged which leads to renewal of key proteins such as collagen and fibrillin. It therefore supports skin's natural self-repair mechanisms, targeting signs of cumulative damage both on and under the surface. This is a world-first technology only available from No7. We believe it is going to be a game changer for consumers."
The new super peptide technology has been met with excitement from the global scientific community with the technology being presented at three world leading scientific conferences this Spring including the American Academy of Dermatology (AAD) Annual Conference in Louisiana, the British Society for Investigative Dermatology (BSID) Annual Meeting in Glasgow and the International Societies for Investigative Dermatology (ISID) meeting in Tokyo.
Commenting on the launch of No7 Future Renew, Dr Emma Wedgeworth, consultant dermatologist, said: "I'm incredibly excited that No7 have discovered a new super-peptide blend that harnesses the skin's natural repair process. No7 Future Renew is a breakthrough range that can help reverse visible signs of skin damage.  It contains a world-first peptide technology that you won't find in any other skincare product."
At the heart of the collection is the No7 Future Renew Damage Reversal Serum, clinically proven in a blinded split-face controlled trial to reverse the appearance of multiple signs of skin damage across a range of skin types and tones, including fine lines, wrinkles, lack of luminosity, dryness, uneven skin tone and loss of firmness.
The No7 Future Renew range will be available nationwide at Boots stores, Boots.com and no7beauty.co.uk from 12 April 2023.