CEW CONSUMER CHOICE AWARDS, 2022
In addition to the 33 categories available to enter this year, we are adding 11 NEW CEW CONSUMER CHOICE awards to the line-up for the very first time!
These new consumer-facing awards are in response to demand and feedback received from members and brands over the past few years, and we hope you will be happy with this addition to the line-up for these coveted and long-established awards.
Important information is as follows:
No additional cost, assets or products are required.
All entries have been consolidated into 11 categories
CEW has built a secure third party hosted voting page with all entries listed.
On the voting pages you will see each entry's image and the product description provided by brands before the product demonstration evening.
Once live, voting will take place on the secure third party site, and individuals will not be able to vote more than once. Duplicates will be removed and winners will be checked by EY and held securely until the event on 1st July.
CEW will be giving a bundle of products worth at least £500 to ten consumers taking part in the vote. Winners to be chosen at random.
The logo may be used by all entered brands together with a graphic of choice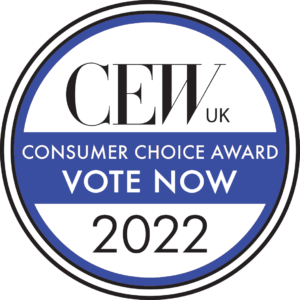 CEW UK SOCIAL HANDLES:
Instagram: @cew_uk
LinkedIn: @cew-uk
Twitter: @CEW_UK
OFFICIAL HASHTAGS
#CEWUKConsumerChoiceAward #ConsumerChoiceAward2022
CEW must be tagged by all participant brands in their communications, adding the link to voting pasted below.
Voting link to share can be found HERE
Please contact CEW with any questions on the Consumer Choice Award 2022