We are delighted to share the 10 recipients of our first Rising Star Awards in partnership with The Perfume Shop!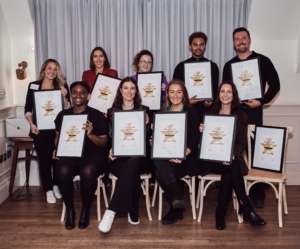 Anna Brightman – Co-Founder, UpCircle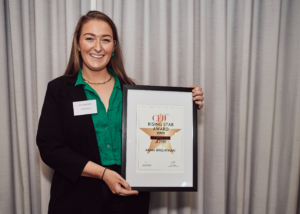 Anna was 22 when she launched UpCircle, the brand that's grown to become the UK's #1 upcycled beauty brand – in just six years! Now stocked in over 40 countries, UpCircle (who this year took home the CEW Responsible Beauty Award for Innovation) have had to move offices twice in 2022 to accommodate their rapidly growing team.
UpCircle's upcycled ingredient portfolio is also growing – upcycled raspberry seeds, rose petals, hibiscus acids and oat powder are now all being rescued for their next product launches. UpCircle have extended the circular approach that they take to their ingredients to packaging too and have now refilled 20,000 pieces of packaging via their "Return, Refill, Reuse" scheme.
Beyond just the products she makes, Anna is a sponsor, speaker, member and contributing writer for groups promoting gender diversity and women's inclusion such as the Female Founders Fair, the Stack Deal Flow Series, Beauty Boss and STEAM School.
Camille Martins – Marketing Manager – Gucci & Burberry UK&I, Coty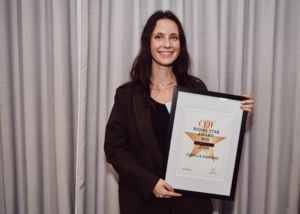 Camille Martins grew up on the French Riviera and embarked on her journey in the beauty industry while working in Grasse, The World Perfume Capital, learning from fragrance makers in their factories. After finishing her degree in Business & Marketing of Luxury Brands, she moved to the UK to deepen her knowledge with a master's degree, specialised in Strategic Marketing.
Camille joined Givenchy perfumes and cosmetics, supporting the team in the Live Irresistible launch, and first step into the digitalisation of beauty counters within key retail partners. Stimulated by the Makeup world, she then joined Charlotte Tilbury for the launch of the first pillow talk lipstick.
In recent years, as part of COTY UK&I, Camille has blossomed from a Luxury make-up expert into a Beauty authority recognised company-wide. With strong strategic thinking and collaboration skills, she has been instrumental in the turnaround of the Gucci business including:
– Positive Fragrance performance +35% value sales, to reach #8 brand in the category
– Led the blockbuster launch of Gucci Flora, which reached #2 female innovation launched in the past 12 months, delivering over £10M value sales
– Building a luxury multi-axis business with the successful roll out of Gucci's new make-up nationally across key luxury retailers leading it from strategy and planning all the way to delivering brilliant executions
Interested in providing innovative solutions, Camille has a keen eye to improve systems and processes wherever she goes. Now with almost 9 years in the Beauty industry, she stays passionate about this forever changing world where creativity meets strategy.
Ed Currie – Co-Founder & Director, AKT London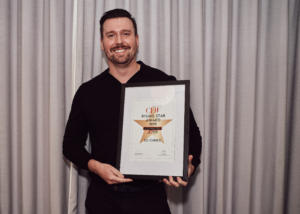 Ed Currie is the co-founder of AKT London, an award-winning, premium, plastic free, personal care brand. With his co-founder, Andy Coxon, and their incredible team, AKT has grown from strength to strength with their Deodorant Balm, winning The Harper's Bazaar and Marie Claire best deodorant awards as well as being the number 1 ranked deodorant by Vogue, GQ, Esquire. Ed and Andy started their business on stage in the West End where they performed 8 shows a week under hot lights. From actors to AKTors, "performance" is very much still at the heart of their business: in all facets of the word.
Jonny Grubin – Founder & CEO, SoPost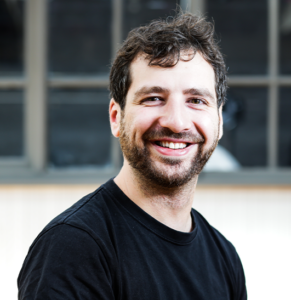 Jonny is Founder & CEO of SoPost, the leading digital sampling platform. A serial entrepreneur, Jonny launched SoPost in 2012 at the age of 20, with the goal of helping brands run powerful sampling campaigns online with a focus on relevance, data and analytics.
Jonny's baby, SoPost, has revolutionised the beauty and FMCG sampling industry by utilising AI and machine learning. Today, SoPost powers sampling for hundreds of brands, including Estée Lauder Companies, L'Oréal and Puig, and operates in 23 countries, with offices in five. Impressively, SoPost now ships an order every two seconds.
SoPost's technology is integrated with Facebook, Pinterest, Spotify and many other online media channels and publishers. This year, new product integrations with TikTok, Snapchat and Google have cemented SoPost's position as the preferred sampling partner for the world's leading platforms. Led by Jonny, January also saw the launch of a next-generation AR sampling campaign in partnership with Perfect Corp. This virtual try-on ad experience is one of Jonny's innovations that points the way to an exciting new future for beauty brands sampling online.
Kayleigh Adams – Store Insight Analyst, The Perfume Shop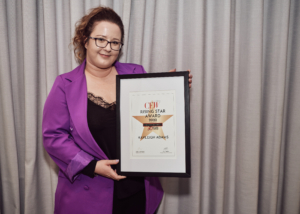 Kayleigh is a Store Insight Analyst at The Perfume Shop where she has been for the last 4 years. Having worked in a few different industries prior to The Perfume Shop Kayleigh started with the business in a sales reporting role and has been promoted to her current position due to a combination of her skills gained in her mathematics degree, commerciality, proficiency in analysis and personal interest in the beauty industry.
Kayleigh has been instrumental in helping store teams deliver on their sales and related KPI's by being their champion. She has also been instrumental in delivering the Trading Dashboard at The Perfume Shop, a tool to give insight and visibility to the field teams and regularly supports Area Managers with insight and ways to engage stores with data and numbers.
Kayleigh has strong interpersonal skills and has built great relationships with many departments across the company; supporting store teams with performance tracking and KPI improvement via dashboard building, partnering with the E-commerce team to track profitability and forecast effectively, and sharing knowledge across the finance team and wider business.
Kyle Frank – Founder & Formulator, Franks Remedies®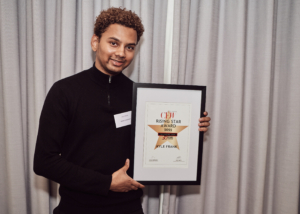 Kyle Frank built his brand Franks Remedies having developed acne himself and subsequently suffering the negative effects of harsh, prescription acne medication. Finding no solutions, he began creating his own natural formulations by learning from indigenous cultures around the world. After developing many products and variations he was able to clear his skin and post inflammation marks gently and effectively. This was the beginning of Franks Remedies, launched to help others who suffer with acne and stress skin concerns.
Since launching in 2020 Kyle has appeared as one of Britain's top entrepreneurs on the BBC 1 show 'The Customer Is Always Right'; recommended by Richard and Holly Branson; and is currently part of the Cadburys & Prince's Trust 'Give A Doubt' campaign with Joel Dommett – helping young people overcome doubts and fears.
Understanding the mental health aspects that can occur from having a skin condition, he created Frank's Glow Up Project, a 5-week wellness programme for 11–15-year-olds in Secondary Schools, accredited by AQA. The project has already helped over 300 young people & counting!
Lune Martens – Founder, Monday Muse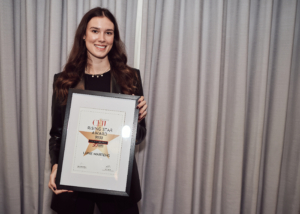 Lune Martens created her award-winning line of skin and scalp care Monday Muse after realising that the current beauty market could not help her when it came to her own skincare needs surrounding acne and rosacea. A graduate of Formula Botanica, Lune became a certified skin care formulator and started creating her own range with skin conditions in mind.
Monday Muse's sales increased dramatically in 2022 without any retail backing behind her and in June of this year she made her way into the Harrods UK store, as well as the esteemed Galeries Lafayette store in France later on in July. The brand now counts customers in over 45 countries.
Not content with that, Lune decided to start her own 'Beauty Muse Podcast' in an effort to bring inspiration to others following behind her. Her products have been featured in publications such as Vogue and The Sunday Times. Lune received the coveted 'Editor's Choice Award' at the Global Green Beauty Awards 2021 amongst many others since then.
Rachael Polowyj – Key Account Manager / Beauty Writer, IMCD UK / Cosmetics & Toiletries Magazine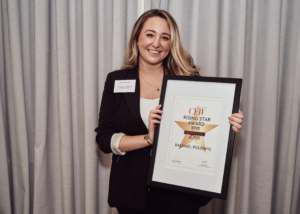 After achieving a master's degree in Cosmetic Science at the London College of Fashion, Rachael's research was published globally – demonstrating ways to affect the release of an active ingredient out of a gel formulation and into the skin. Five years into her career, Rachael is now working full time at a cosmetic ingredient company IMCD, where she collaborates with indie brands, retailers, contract manufacturers and multinationals to source truly innovative materials, that create high end consumer products.
Rachael writes a regular column for US-based scientific magazine – Cosmetics & Toiletries as well as their sister company, Global Cosmetic News. In her column, she takes a product from the shelf and analyses the ingredients used to show how the brand is fulfilling their claims, by breaking down the science for the everyday reader to digest.
Last year Rachael co-authored a chapter in the 'Discovering Cosmetic Science' book, where she debunked common myths relating to ingredients such as silicones or parabens. Today she continues with her passion and enthusiasm in defending our beloved industry and helping consumers understand the science behind cosmetics.
Rosemary Madagwa – Founder & Creative Director, Lava Cap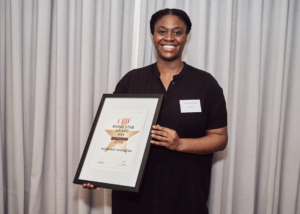 Rosemary's struggle with dry, brittle hair came to a head during the first UK lockdown when she found herself balancing a hectic work schedule from home and the ever-dwindling capacity for her own haircare routines. After a 10-year banking and consulting career and with an engineering background, she made the jump into haircare and launched Lava Cap in August 2020 due to a desire to create access to simple, convenient haircare solutions. Lava Cap is an award-winning, vibrant deep conditioning cap brand that aims to liberate people from their haircare woes, encourage self-care and good mental health.
Sarah Barnes – Creative Video Producer – Beauty, Sunday Times Style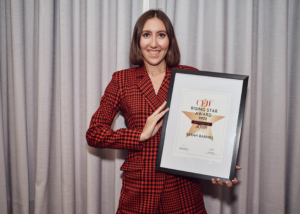 Sarah has embraced the 360 world of journalism, reaching consumers via print, digital, audio and video. Working at The Sunday Times Style as Creative Video Producer, Sarah is responsible for producing the brand's editorial and commercial video content. Covering beauty, lifestyle and celebrity, shooting with talent such as Salma Hayek and Florence Pugh. While working alongside a range of DOP's and editors to creatively produce both long-form and social video, Sarah also works across commercial beauty video partnerships with brands such as Lancôme, Armani Beauty and Estée Lauder.
Previously at Marie Claire Magazine as their Beauty Writer and Producer, Sarah wrote monthly double-page beauty features and produced beauty projects, with the likes of Charlotte Tilbury and Shiseido. When the magazine transitioned to be fully digital, Sarah wrote online beauty and travel pieces, covering hotels and spas worldwide. As well as producing the titles digital covers with industry names such as Lily Cole and Neelam Gill.
In her spare time, Sarah works as the Beauty Editor for PIBE Magazine and has previously produced beauty shoots for Dior Beauty and Hershesons.