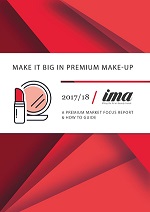 Take advantage of IM Associates' exclusive Premium Market Report launch offer
Make it Big in Premium Make-up PLUS The Omnichannel Report
Make it Big in Premium Make-Up is the latest report in the Premium Market Report series that launches on Monday 15th with a saving for CEW members. From now until January 31st, CEW members will receive a 20% saving on the £379 report AND the Omnichannel Report (worth £549) for free.
Make it Big in Premium Make-Up is designed to give growing beauty brands the tools they need to succeed in premium make-up, whatever stage of their development.
The report rounds up the most important market trends that are shaping the industry along with relevant case studies and penetrating expert analysis to help you discover where the real opportunities exist.
The Omnichannel Report will help you make the most of the opportunity omnichannel presents. We believe that the move towards an omnichannel approach is perhaps the most significant challenge facing premium brands.
For further details on each of these reports:
http://www.imogenmatthews.co.uk/how-to-make-it-big-in-make-up/
http://www.imogenmatthews.co.uk/omnichannel/
To take advantage of this exceptional offer, go to http://bit.ly/2DoD5dx and use the discount code: CEW20